5 Stars to Tribeca Veterinary Wellness - Piotr S.
Here at Tribeca Veterinary Wellness we strive to provide your pet with the best quality of life
Your pet is your family and we want them to live the life they deserve!
Welcome to Tribeca Veterinary Wellness, opening our doors for you with a modern, calm and gracious environment for your beloved and adoring cats and dogs. With over 20 years of experience, we will listen to you with an unhurried, calm manner and come to insightfully understand your treasured companions' needs. We are a high quality, full-service veterinary hospital with a gentle touch and a natural, intuitive approach. Excited to be a part of the Tribeca and Battery Park communities and neighborhood, we passionately care for your cherished pets in a relaxed environment. We earnestly appreciate your fine, furry friends and love keeping them healthy (and doting upon them), because it is our true vocation!
We are now offering International Health Certificates. Please call our hospital for more information.
We offer 60 minute appointments to be sure we are able to thoroughly and insightfully address your veterinary concerns and questions.
YES, PETS NEED DENTISTS, TOO!
We are INCREASING our Dental Availability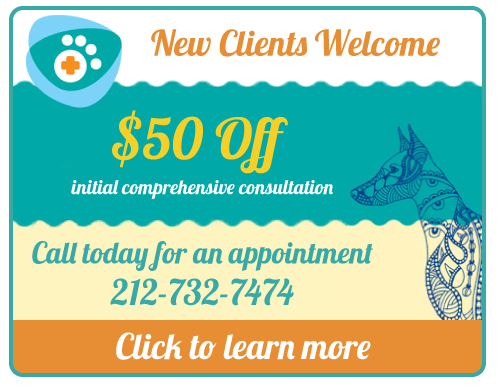 Refer a Friend!
We are very excited about our "Lend a Paw" program in which our clients and the friends* they refer will each receive a $50 certificate towards a Comprehensive Consultation with Doctor Pietrzyk.
This is our way to show appreciation to our neighborhood community and a great opportunity to meet you and your loving pets!
*Lend a Paw will be applied upon your friends' first visit with us, when they let us know who to thank for referring them!
Visit Our NEW Client Center
Keep Your Dog Safe from the Canine Flu
We have a limited supply of vaccines for every clinic. Make your appointments now!