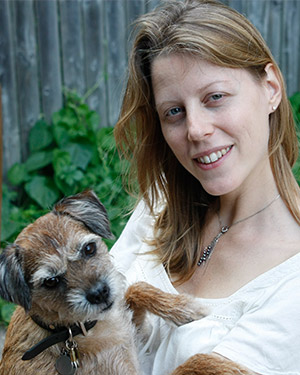 Jennifer B. Berg, DVM was born in Milwaukee, Wisconsin. She spent her formative years there, with her parents and older brother, and a family dog she trained (and dressed up) daily. All of her family lives in Milwaukee. As a young child, she spent time in summers on a dairy farm in northern Wisconsin, mostly in the barn, bottle feeding calves and trying to befriend and treat the barn cats with their upper respiratory infections.
Jennifer began her life's work in the veterinary profession in high school working as "kennel girl"' at a local animal hospital as soon as her age allowed, and has since worked in almost every role in small animal practice. She uniquely understands how each part of the veterinary team is important in creating good care.
Dr. Berg graduated from the University of Wisconsin School of Veterinary Medicine in 1997 and completed an Internship at the Animal Medical Center in New York from 1997 to 1998. She accepted an Associate Veterinarian position at the Tribeca Soho Animal Hospital where she has been employed from 1998 to 2008. She had her first child in 2008, and then was employed at Animal General on the Upper West Side of Manhattan from 2009 until October 2016, during which time she also had her second child. Tribeca Veterinary Wellness is the realization of a dream she has always had, to create her own veterinary clinic, with her own particular philosophy and positive culture at its core.
"We hold your paws in our hands" is the embodiment of that philosophy, one in which pet owners and their veterinary clinic are together integral parts of the same team in preserving the health and wellness of their pets. It is one in which listening is key, really listening and trying to discover the subtle nuances which exist and which help to identify the best way to help each pet, each patient.
She enjoys attending Continuing Education meetings focused on the advancements in all veterinary specialties, as well as in general practice. She believes her central role as primary caregiver, counselor, and pro-acitve "connector" in support of her patients many needs, is essential in creating consistency and continuity of care for her patients.
Her own dog, a little white rescue pup named Seeker by her children, can be seen on the website making a cameo. In addition, making a few website appearances, is her first dog, a soulful Border Terrier named Yahoo, the most precious gift from her wonderful clients, and friends, in Tribeca. In her "free time", Dr. Berg loves to spend time with her husband and two children, visiting NYC's Art Museums, biking, exploring flea markets, hiking in the mountains of the Adirondacks, reading and writing poetry. She also loves to perform any "science with a benefit", such as cooking, making her own bath products with her daughter, or trying her hand in solving just about any problem!